4 Hear, O Israel: The Lord is our God, the Lord alone. 5You shall love the Lord your God with all your heart, and with all your soul, and with all your might.6Keep these words that I am commanding you today in your heart. 7Recite them to your children and talk about them when you are at home and when you are away, when you lie down and when you rise. 8Bind them as a sign on your hand, fix them as an emblem on your forehead, 9and write them on the doorposts of your house and on your gates.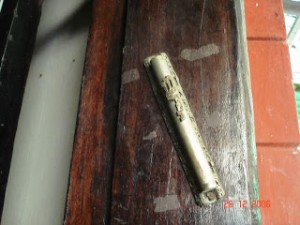 In Israel, you will find Mezuzahs on doorposts of houses.   In the hotels, they are on each room.  The Mezuzah is a word that means doorpost.  The tradition of have a Mezuzah on the door goes back to this scripture.  The Mezuzahs either have the Hebrew words for "The Lord our God is God alone" printed on it or sometimes this whole scripture is printed on a scroll inside the Mezuzah.  Having it as they walk into their homes is a way of remembering God and keeping God at the forefront of their lives.  It has become a reminder to pray for God's blessing.
We need reminders in our daily lives.  Objects that help us remember to keep God at the center of our lives.  Maybe it is a simple as a cross on our necklace, a picture on our wall or our Bible by our bedside.   Symbols point us to something much greater than the symbol itself.  During this time of Lent, place a symbol in your home, office or car that points to God that you might remember to pray for his blessing upon your life each time you see it.
Blessings,
Pastor Mandy